Global Immigration Services
Fulfilling dreams beyond boundaries!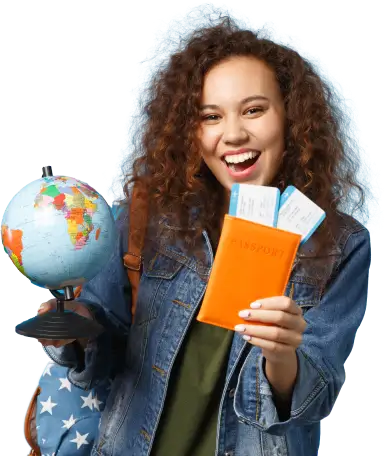 Reasons to Migrate Abroad
Countries to Immigrate
As the globe is turning into a single unit with the improvement of international ties and globalization, every individual has scope to move to any country of their dreams. It is easier to move to countries like Canada, Australia, Germany, Austria and Sweden due to more straightforward immigration processes, favorable living standards and work opportunities.
GIS Immigration Process
1.

Profile Evaluation

As one shows interest, a detailed evaluation is made to determine the overall eligibility for the PR process.
2.

Language Eligibility and Educational Check

Next, language skills are evaluated along with the educational background, called Educational Credential Assessment (ECA).
3.

Filling for PR: Expression of Interest

Finally, an Expression of Interest (EOI) document is prepared and submitted along with required eligibility proof.
4.

Invitation to Apply

After the Invitation to Apply (ITA) is received, we will help complete the PR process within a stimulated time.
What are the minimum requirements to immigrate?
The criteria for eligibility to move and settle in a foreign country are country-specific. In other words, each country has its own set of requirements. However, the fundamental areas where a person is evaluated for suitability are communication skills, educational background, professional experience and financial stability. In some cases, medical conditions and background checks are also required depending on the country.
Immigration Points Calculator
As the selection requirements change from country to country, the points calculator also varies. If you plan to move to Canada, there are two elementary points calculators one should be aware of: the Comprehensive Ranking System (CRS) and the 67 points calculation under the two most important programs of the Express Entry Program. Likewise, for Australia, the point calculator includes factors like age, English proficiency, Education and Work experience in and out of the country, and a few regional determinants, based on which the candidate has to score a minimum of 65 points.
Why Global Immigration Services (GIS) ?
Transparent and Competitive Costing
The service charges are explicitly mentioned. Despite the competitive market, the costs are reasonable without compromising the quality and easily fit your budget.
Job Search Assistance
Additional utilities like job search assistance, revamping the job profile according to the country's market needs, and updating a LinkedIn profile are offered.
IELTS Band Guarantee
One has access to abundant materials and IELTS experts who can mentor and aid in achieving a high band score in the exam.
Know Progress Real Time in a single dashboard
A single dashboard will be provided where one can get information about the nitty-gritty of the application process and the need to contact the consultants for updates is eliminated.
Super fast application
process
The quick completion of the application procedure takes place within 3-4 days, making planning the future in their dream nation possible.
What our Users Say!
Ankita, India
PNP Saskatchewan
When I decided to study and build my career in Canada, I wanted to get in touch with a reliable agency that could help me with the process of PR. GetGIS was introduced to me by a friend. Without any delay, I contacted them. The team was generous enough to understand my requirements and help me with their services. Receiving Canadian PR was a smooth process with them. I owe them a lot.
Krishnan Thapa, India
Saskatchewan
After enough research, testing, and trials, I finalized GetGIS. Since my schedule was already tight, I didn't want to go differently for IELTS and PR. Fortunately, they helped me with both. I took the IELTS course for a month, and after that, GetGIS helped me with the PR process to Canada. Today, I am a proud Canadian citizen, all thanks to the professional team at Global Immigration Services.
Prakriti Singh, India
PNP Ontario
I'm immensely satisfied and pleased with the Canadian immigration services offered at the IELTSMaterial.com Global Immigration Services (GIS), which guided me throughout my Canada PR journey. Initially, I was hesitant as they operated entirely online, but when I availed their immigration services, I was quite impressed with their transparency. From the online consultation to helping me achieve the Canada PR within six months in a hassle-free manner, I must say that IELTSMaterial.com GIS is one of the finest immigration consultants serving applicants online.
Prakhar, Dubai
PNP Ontario
I'm grateful to the expert professionals at Get Global Immigration Services (GIS), who made my Canada PR a great success and comprehensively assisted me in the job-hunting process. Kudos to their devotion and commitment to assisting right from the start of the PR process to obtaining the PR effortlessly. The GIS expert gave utmost attention to my immigration requirements. Without the GIS expert's help, I would not have been able to receive my job offer. In addition, they revamped my resume and enhanced my LinkedIn profile for job opportunities in such a way that it stood out from the crowd. My PR experience with GetGIS was fantastic, and I would recommend it to anyone looking for immigration assistance.
Taranpreet Kaur, India
Express Entry
I highly recommend Get Global Immigration Services to anyone who wants to make their immigration procedure as simple as possible. My consultant has been really helpful in guiding me with my application and keeping me well informed on the status of my profile. Before being uploaded, they checked my application several times for any discrepancies. I also took IELTS training and job search assistance as part of the package, and I must say, it's a steal deal. I was able to clear the IELTS on the first attempt with my desired band score. They also helped me by finding jobs in Canada. A big thanks to them!
Oliver Brown, Malaysia
PNP Ontario
My immigration advisor was really helpful and led me through the entire process. They have a thorough understanding of the clients' varied needs and make every effort to make the procedure as simple as possible. I strongly recommend Get Global Immigration Services for Canada PR.
GetGIS has been Featured In
Frequently Asked Questions
What documents are needed for immigration?
The immigration process and the documents required to complete it differ from country to country. However, the most basic and yet crucial criteria are language proficiency, educational qualifications, work experience (if any) and proof of funds. So, documents to prove these eligibility criteria are considered essential, along with Police Verification certificates and medical certificates for a few countries.
How long does it take to immigrate?
Again, there is no 'one size fits all' condition regarding migration. The time taken is determined by various factors like pre-planning of the candidate, the visa type or the program the person is applying for, the demand for skilled immigrants in the country, updates in rules and regulations, etc. Therefore, although it takes around six to nine months to migrate to countries like Canada and Australia, it may take more or less time as conditions change from person to person.
Which countries are the best and easiest to immigrate to from India?
According to various sources like the IndiaTimes and many others, Canada rules the charts when welcoming skilled immigrants from countries like India. It invites around 300,000 immigrants each year to join its workforce and develop its economy. Apart from it, countries like Australia, Germany and New Zealand follow the same course.
What are the various programs or processes to apply for PR in Canada?
There are multiple programs available to apply for Canadian PR, like Express Entry (EE) Program, Provincial Nomination Program, Caregiver Program and Family Sponsorship Program. Similarly, various types of visas like Study Permits, Work Visas, Startup Visa also aid one to fulfill the migration dreams. Additionally, Quebec, a significant province of Canada, has its separate immigration programs. Among all of these programs, the Express Entry Program is the most common and sought-after pathway to Canadian PR.
How can I become a permanent resident of Australia?
If you want to become a permanent resident of Australia, three common visa pathways can fulfill your wish. They are a family-stream permanent visa (for family members of an Australian citizen/ permanent resident of Australia or a caretaker who is required to take care of an approved relative or resident), a work-stream permanent visa (for skilled workers with Australian employee sponsorship) and a business or investor-stream permanent visa (for businessmen or investors who can continue their commercial activities and successfully contribute to the economy of the country). There are four other options, namely, Retirement Visa, Former Resident visa, Global Talent Visa and Refugee and Humanitarian visas.
What is the cost required for the whole immigration process?
As one must be aware, many immigration consultants promise to help you fulfill the dream. Apart from the fact that there is a lack of guarantee, they charge over a lakh which might not fit your budget for limited services. Fortunately, the IELTSMaterial GIS family knows the value of dreams and charges a reasonable amount of 60,000 to 75,000 INR, including PR assistance, Job Search guidance, and IELTS preparation.
Where is GIS located?
At present we are located in multiple cities - Mumbai, Bangalore, Kolkata, Hyderabad, Pune, Chennai, Delhi, Gurgaon, and Ahmedabad. Our headquarters are in Bangalore. You can either visit our offices or can avail the services online.
How do I contact GIS?
There is an option of booking for a free consultation which you will find on our website. You need to fill in some basic information like name, country code, email id, contact number, date of birth, etc. Experts from IELTSMaterial GIS will contact you within 24 hours to answer all your queries. After that, you can keep in touch with the consultant.
Do I need to purchase a separate package for IELTS preparation and another for immigration for GIS?
No, you do not have to take separate packages for IELTS preparation and immigration if you register as a prospective candidate for PR. The package is a combination of PR assistance, IELTS preparation and Job guidance.
Frequently Asked Questions